Shunga Chocolate Body Paint
August 31, 2008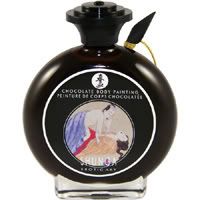 I love chocolate. A lot. In fact, there was many a joke in my grad school program about how my vagina craves and eats chocolate. Ergo, I thought it would be prudent to try something that was chocolate. And sexual. Because let's just be honest; my life revolves around sex and chocolate.
So this review is about Shunga Chocolate Body Paint. I saw chocolate at Babeland, as a sex thing, and I wanted it.It came in the mail, and as I open the package, I realized there was one problem; I needed to find someone to try it out on. Unlike your dildos and vibes, chocolate body paint is really mean for two people.
I waited. Semi-patiently. And then, the solution presented itself. I had someone, in my apartment, alone, who was really hot, and wasn't running panicking.
"So, I need to review this chocolate body paint. Would you be willing to take one for the team and help me test it?"As she stood in my kitchen, I held up the glass jar suggestively. When M acquiesced, I looked at her expectantly.
"Where would you like me to paint you?""Anywhere is fine." I looked her up and down. She was wearing a long sleeve shirt. Anywhere? Unless I was going to turn her face into my canvass, I had to change the situation a bit.
"Does that shirt come off? And if so, do you need any help with it?"
Shirt unbuttoned, and tossed over a chair, undershirt off and folded, I spun her around in front of me. Right above her sports bra, her back was a blank canvass. Opening the bottle, I attempted to use the wood and foam quill provided. It didn't work so well, but creative femme that I am, I found a lip liner make-up brush that worked perfectly.
It smelled like chocolate. It even tasted like chocolate (which I wasn't expecting…faux chocolate is usually pretty gross). It was a little thicker and stickier than something like chocolate syrup, and less creamy than melty chocolate ice cream (un, did I mention that I like chocolate and sex?). It took a little to get used to it, but I was able to use it to create both words and designs on M's back.
I will say the licking it off part wasn't quite what I expected. It dried relatively quickly, and was more difficult to lick off than I thought it would be. I'm glad I didn't do too much of it, because while licks and kisses are sexy, a full fledged tongue bath is not (at least for me). I'd suggest that you don't use too much of it, or if you want to create a giant masterpiece, I'd plan on a hot and steamy shower together to take care of the stickiness.
I have yet to try it on nipples (either mine or a partner), but I think that'll be quite fun. Honestly, I'd keep it away from the vulva to prevent yeast infections — sugar + naughty bits = bad plan.
It didn't tell me anything about storage, so I recapped it and stuck it in the fridge before we continued our conversation in my bedroom.
All in all, 4 stars out of 5. Prettier and less messy than chocolate syrup, lots of fun, and pretty tasty, but not reinventing the wheel.
And what did M think?
Good smell. Good taste. Not messy, which is good, but definitely have a plan for getting it off other than your tongue, if you do a lot (see my note above re: shower). Overall, like a 7 out of 10 maybe. Ok, folks, there you have it. Want some of your own? Go buy some Shunga Chocolate Body Paint at Babeland.
-Essin' Em
Episode 2 – John Holmes, Sliquid Organics, Barcelona Sex Project, Rachel Kramer Bussel and more!
August 29, 2008
Thanks for all your lovely comments on Episode 1! In response to your suggestions, I added transitional graphics and music, I hope it makes the show more watchable. There are a few things you can do to make Live Girl Review popular and me feel loved – comment here (and win free stuff), review the show on iTunes, and click on the links below to check out the things I review. If you buy anything at Babeland, type in the code "livegirl" when you checkout and you'll get a 10% discount. I'm working on getting other deals like that for my viewers so stay tuned for that – and if you buy through links here on Live Girl Review, I get a percentage of the sales so you're helping me out too. But of course, that doesn't mean that I'll be less honest in my reviews.
Here what's in the show this week!
Reviews
Book: John Holmes, a Life Measured in Inches

Sex Toy: Sliquid Organics line of lubes
Movie: Erika Lust's Barcelona Sex Project — that link takes you to Hot Movies for Her, where you can pay per view instead of paying international shipping for the DVD.
One Hot Minute
Sex educator Jamye Waxman gives a tip on how to make a blowjob extra nice with a little help from your fingers.
Bad Press
This episode's bad press is more an encouragement to be critical of how sex toys are sold and less of a total slam. I share my opinions about the rabbits vibrators, in response to a comment left by Gustav
Fan Girl Moment
I am having fan girl moment over Rachel Kramer Bussel and her new anthology Spanked: Red-Cheeked Erotica
, so as part of her month-long blog tour, I interviewed her about erotica, plus quizzed her on her personal interest in spanking.
Goodies! – comment (with a moderate amount of thoughtfulness!) to win. I'll pick one of the first TEN commenters as the winner, and you'll receive the following:
Spanked: Red-Cheeked Erotica
– the latest erotica anthology edited by Rachel Kramer Bussel
Kelly Payne's The Judge's Chamber – yup, a dvd of spanking smut
A bottle of Sliquid Organics lube
Magma Toys is also making several of their Phoenix vibes, which I reviewed in episode one, available for my viewers. If you're interested in giving one a try, comment on this post or email me at dacia[2t]livegirlreview.com and tell me in 50 words or less why you're interested in this toy and what you intend to do with it.
The next long episode goes up on September 10th, but I'll also be doing a few quickies throughout September.
Again, thanks for all your comments, emails, and iTunes reviews – keep 'em coming!
The Screaming Octopus!
August 28, 2008
You know, I'm not much for the whole tentacle sex thing.
I mean, I dig that there are folks who get off on having their orifices penetrated by real or simulated cephalopods, I'm just not one of them.
The Screaming Octopus from VibeReview might have changed my mind about the use of invertebrates as pervertables. I mean, look at it! It's so cute! And who can resist a toy with that name? Not me, and that's why I tried it out last week with Kelly.
The idea is simple enough: a smallish bullet that runs on two watch batteries and is covered in a soft rubber octopus body, complete with eight splaying arms. Press the button on top et voila–a superfast buzz that sounds a bit like a mosquito. The shape of the octopus is perfect for surrounding a nipple, which is what I ended up doing a lot with Kelly while he was jerking off for me.
Another "I'm so glad someone thought of this" feature is the handy strap up top (Not pictured, but it's there), which allows the user to control where the vibe goes, without touching the motor with his or her fingers, thus keeping the vibrations strong and right where they should be. I dragged that thing across Kelly's nipples, balls and perineum, and he called it "nice." This is high praise, since when he totally wants to jump my bones he says he "wouldn't mind" fucking.
The Screaming Octopus is, as you might expect, waterproof. (Thank goodness, or its little arms would get all shriveled having to stay dry all the time!) Naturally, I took it for a leisurely swim dans le bain later that night.
Me likey.
The Screaming Octopus has, I think, found a home in my shower; to be produced at regular intervals when making out or making looove. The soft rubber is easy to clean, and the hummingbird-fast vibrations are a nice change from deeper, more intense frequencies you'll find in larger products. This is not an "if you must buy only one vibrator, buy this one" toy; the vibrations are, in my opinion, less than ideal for pure wankage, you can't put it inside your body, and it's only got one speed.
But as an accessory? As a nipple/clit/bum stimulator? It's sweet and lovely and I totally want to give one to all my girlfriends.
Order at VibeReview through November 4 and save 10% with this coupon!
Rainbow Nights Paddle
August 27, 2008
Spanking is a big part of my sexual repertoire. There is a lot to be said for using your bare hands but sometimes you need something that packs a bit more sting. The Rainbow Nights paddle is an elegant answer to that problem.
The first thing you'll notice about this paddle is the elegant embroidery and beading. While the adornment is pretty, the workmanship on it was not very high quality. Even directly out the packaging, I found that some of the beads and sequins were already loose. However, it is still a lovely embellishment. The embroidered side also presents some nice opportunities for sensation play as it can be used to caress the skin of your partner and provides some delicious scratchy sensations.
The most important thing to evaluate with an impact implement is how it sits in your hand. The Rainbow Nights paddle is compact and lightweight but it has enough heft to it to feel substantial. It felt comfortable in my hand and was easy to swing.
So how did it feel on the receiving end? Stingy! If you've never spanked with a paddle before, you are in for a whole other sensation. Without the feedback of the sting on your own hand, you can hit much harder and the leather backing delivers a great smacking sound. Despite the scratchy beading, turning the paddle over to the velvet decorative side allows for a softer spank.
Overall, I felt that the Rainbow Nights paddle was made out of sturdy material and that it would hold up through many spankings. It has gotten a regular workout at my house this week and doesn't show any signs of slowing down. This will be a welcome part of my toy bag for a long time.
The Lily
August 26, 2008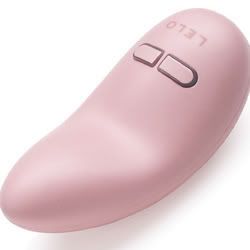 I <3 Lelo. A lot. You can imagine my excitement when a lovely box arrived in the mail for me, containing none other than my very own Lelo Lily Vibe. Of course, *mine* was not pink. No, it was black, and we all know how incredibly hot black sex toys are! Now, I've had the Gigi vibe by Lelo for almost a year now, and I absotively, posolutely LOVE it.
So you might then be able to understand why I was a little disappointed when the Lily didn't set off fireworks under the covers.
As with all Lelo products, I charged my lovely Lily first. Score one for being sustainable, and not using batteries! As I waited, I read the instructions. Unlike the Gigi, it didn't have multiple programs, although there were different levels of vibration. I loved the feeling of the toy; almost velvety. And of course, like all Lelo products, it is completely phthalate free! Hurray!
Once it was good to go, I unplugged it, and snuck into my bedroom, losing my clothing on the way. Hopping into bed, I turned up the toy to the second setting it, letting it work its way down my body to my clit.
Now, just like there are two types of hits in BDSM (stingy and thuddy) and most people have a preference, there are multiple types of vibration, and I don't just mean "training toys vs the Hitachi Magic Wand", although sometimes it DOES feel that way. No, I mean there are hummy toys, and whiny toys, and buzzy toys, etc. This toy was kind of whiny. It was louder than my Gigi, and the noise was kind of annoying. More over, rather than deeply vibrate my clit the way I like, it almost felt like it tickled it. I tried it on a variety of different settings; high, low, in the middle (kind of like Golidlocks, but nothing felt "just right"). I fit it between my lips, put on a pair of underwear and walked around (a suggestion made in the instructions, which I actually read), but still, nothing.
Now, this is not to say it wasn't arousing; it most certainly was. But as someone who loves the humming, high power, weapons grade sex toys? It was incredibly frustrating! After a bit of this, I gave up, putting the Lily to the side, and busting out my good ol' friend, the Hitachi.
These types of vibes are perfect for some people. If you're very sensitive, I can only imagine that the Lily Vibe would feel sensational! However, for me, it just didn't *quite* do it, and it's a pricey enough vibe that I would have been a bit frustrated, and not just sexually. A similar, but slightly more affordable vibe is the Layaspot (although I don't think it comes in black, and let me tell you, that was quite the selling point!), which might be worth trying out first.
However, if you KNOW you don't need a lot of fire power, and you like the lighter, more buzzy vibes, this could be the right toy for you. It's beautiful, well designed, re-chargable, comes with a satin pouch for travel and a cool box for storage, is phthalate free, and in addition to pretty colors, is also available in BLACK!
To buy your own Lily, or any other vibe, check out VibeReview.com
Neo Love Ring
August 25, 2008
Jay and I tried the Neo Love Ring together in several different configurations over the last few weeks. We talked about it and I thought I would just let you read the chat logs:
Ellie: So, what did you think of that vibrating cock ring?
Jay: Good stuff. It's already served many purposes.
Ellie: Any that I don't know about?
Jay: Haha, nope. All of them were your ideas.
Jay: You don't remember how we used it the first time?
Ellie: Well, yeah, the submissive on the wall in the cock bondage.
Ellie: Did you try it on your balls at all? How did that feel?
Jay: Yeah, we turned it around the second time we used it. It was quite nice.
Ellie: Would it make them numb after awhile or stay good?
Jay: I think a lot of guys are afraid of having vibrating devices on their balls, but it was gentle and nice.
Jay: Ian (and his extra-sensitive scrotum) would approve, I think.
Ellie: Okay, so good for balls, then.
Jay: Yeah, quite good. I love the dual modes on it.
Ellie: that was really good for teasing actually
Ellie: since it would only go on when it was pressed against me it didn't make me come too fast.
Jay: Yep. I liked that.
Jay: I easily got an extra 10 minutes of sex from you thanks to it

Ellie: LOL
Ellie: Am I that bad?
Jay: Yes?
Jay: No, it's okay. The 4 minutes before you come are totally worth it.
Ellie: I don't think that most people would expect a vibrating cock ring to slow things down for a girl.
Ellie: I guess I'm weird.
Jay: Yeah, well.. I think that was more my plan than the cockring.
Jay: It was just the tool I used to make it happen.
Ellie: If you had it on the constant vibration mode, that would have failed.
Jay: Most likely, yes.
Jay: I mean, it's pretty strong, but not to the point of numbness, at least not for me.
Ellie: But overall, you enjoyed it?
Jay: Yeah, although the "ring" could be a little tighter.
Ellie: Yeah, those jelly ones aren't really good at constricting things.
Jay: The ring is just the way it holds onto you, it's not really a cock-ring. It has ridges inside it to keep from constricting blood flow a bit.
Ellie: So, as a penis attachment, good. As a cock ring, sort of weak?
Jay: Great minds think alike, yeah.
Jay: Yep, definitely a fun toy. Basically turns any functioning penis into a vibrator. How can that be a bad thing?
So, we love the Neo Love Ring. It is good for sex, it is good for masturbation, and it is good for torturing squirming submissives. This is a multitasker in the bedroom and a new favorite for us.