The Lily
August 26, 2008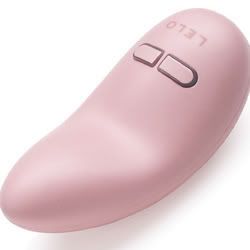 I <3 Lelo. A lot. You can imagine my excitement when a lovely box arrived in the mail for me, containing none other than my very own Lelo Lily Vibe. Of course, *mine* was not pink. No, it was black, and we all know how incredibly hot black sex toys are! Now, I've had the Gigi vibe by Lelo for almost a year now, and I absotively, posolutely LOVE it.
So you might then be able to understand why I was a little disappointed when the Lily didn't set off fireworks under the covers.
As with all Lelo products, I charged my lovely Lily first. Score one for being sustainable, and not using batteries! As I waited, I read the instructions. Unlike the Gigi, it didn't have multiple programs, although there were different levels of vibration. I loved the feeling of the toy; almost velvety. And of course, like all Lelo products, it is completely phthalate free! Hurray!
Once it was good to go, I unplugged it, and snuck into my bedroom, losing my clothing on the way. Hopping into bed, I turned up the toy to the second setting it, letting it work its way down my body to my clit.
Now, just like there are two types of hits in BDSM (stingy and thuddy) and most people have a preference, there are multiple types of vibration, and I don't just mean "training toys vs the Hitachi Magic Wand", although sometimes it DOES feel that way. No, I mean there are hummy toys, and whiny toys, and buzzy toys, etc. This toy was kind of whiny. It was louder than my Gigi, and the noise was kind of annoying. More over, rather than deeply vibrate my clit the way I like, it almost felt like it tickled it. I tried it on a variety of different settings; high, low, in the middle (kind of like Golidlocks, but nothing felt "just right"). I fit it between my lips, put on a pair of underwear and walked around (a suggestion made in the instructions, which I actually read), but still, nothing.
Now, this is not to say it wasn't arousing; it most certainly was. But as someone who loves the humming, high power, weapons grade sex toys? It was incredibly frustrating! After a bit of this, I gave up, putting the Lily to the side, and busting out my good ol' friend, the Hitachi.
These types of vibes are perfect for some people. If you're very sensitive, I can only imagine that the Lily Vibe would feel sensational! However, for me, it just didn't *quite* do it, and it's a pricey enough vibe that I would have been a bit frustrated, and not just sexually. A similar, but slightly more affordable vibe is the Layaspot (although I don't think it comes in black, and let me tell you, that was quite the selling point!), which might be worth trying out first.
However, if you KNOW you don't need a lot of fire power, and you like the lighter, more buzzy vibes, this could be the right toy for you. It's beautiful, well designed, re-chargable, comes with a satin pouch for travel and a cool box for storage, is phthalate free, and in addition to pretty colors, is also available in BLACK!
To buy your own Lily, or any other vibe, check out VibeReview.com
Comments